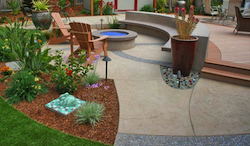 We are innovators of concrete design and builders of fine patios, walls, fireplaces, interior floors and countertops, water features, and driveways. As such, we have brought the latest trends to all kinds of homeowners.
A niche contractor and highly skilled in our profession, we can build you a beautiful outdoor living space. We excel at integrating concrete with tile and masonry and exhibit knowledge of the current innovations in concrete design while listening to the needs of the homeowner. We have created some wonderful lasting signature pieces unique to each client's vision. Make your old concrete look like new with our specialty products and innovative techniques.
A.C. Bentley Concrete is a fully licensed & insured concrete installation company serving greater Santa Cruz, Santa Clara and Monterey County, including Aptos, Capitola, Felton, Santa Cruz, Scotts Valley, Soquel, Watsonville, Gilroy, Los Gatos, San Jose, Santa Clara, Saratoga, Carmel, Castroville, Monterey, Pacific Grove, Salinas, and Seaside.

Adam Bentley
A.C. Bentley started as an apprentice for a master concrete finisher and form setter in 1997. He developed special skills in the unique craft of decorative concrete and in 2003 acquired his own license. From the beginning A.C. has worked on high-end projects and built beautiful patios, custom walls and stairs, fireplaces, pizza ovens, outdoor kitchens and unique driveways. His interior work includes beautifully stained concrete floors with radiant heating, kitchen countertops, and other specialty items.
A.C. Bentley Concrete has four employees that are practicing the same building principals and philosophies that started with A.C.'s apprenticeship. These men are highly skilled, enjoy their work, and it shows. A company on the cutting edge of the concrete business and skilled professionals who's attitude and work ethic are of the highest levels. We invite the homeowner to enjoy the creative process and even be involved in some of the creative decisions. Call us today for a free consultation.